Florence is Doogal's Owner. She loves Doogal so much.

E
Relationship
Edit
She loves her dog, Doogal
Trivia
Florence he is a similar to rosie in A Bug's life
Physical appearance
Edit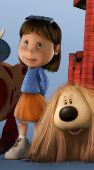 Florence is a young english girl with brown hair with a blue hair bow on the top her head, sand skin and blue eyes, she wears a blue sweater with a white collar, an orange skirt, white socks and beige shoes.
Ad blocker interference detected!
Wikia is a free-to-use site that makes money from advertising. We have a modified experience for viewers using ad blockers

Wikia is not accessible if you've made further modifications. Remove the custom ad blocker rule(s) and the page will load as expected.